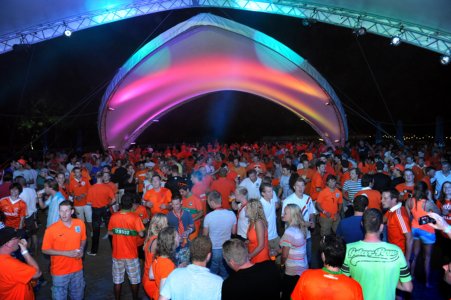 Dutch Soccer fans Campsite at World and European Soccer Championships - Worldwide
Orange Campsite limited. Sets up and exploits campsites for supporters of the Dutch national football team during the World Soccer and Euro Soccer Cup. The campsites are set up in cities were the Dutch National soccer team plays and offer a combination of supporting the Dutch Soccer team and party events on the campsite premises.  The campsite has drawn international media attention during EURO 2004 in Portugal, the FIFA World Cup 2006 in Germany and EURO 2008 in Austria-Switzerland.
Our Assignment: In 2011, has TLC Group development director Eppo Vogel, been assigned as interim manager to restructure the organisation and to make the edition of Euro Cup 2012 in Charkov in Ukraine, profitable. The Orange campsite in Charkov was open for 12 days and received an average of 2.000 guests per day.